Five Valve Manifold Remote Mounted Manufacturers and Suppliers
5 Valve Manifold Remote Mounted Flat Type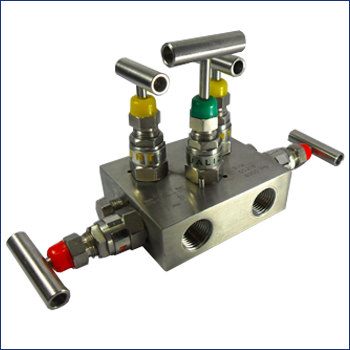 PART NO : 3VM-DM-H

DESCRIPTION : Five Valve Manifold incorporated two process. Isolation Valves, one equalizers valves and two drains / vent valves, with a common drains connection in a compact manifold block. The model is designed for remote mounting away from the differential pressure instrument and joined by tube or pipe impulse lines. They have threaded connections of which the most popular are detailed below but also available to suite other sizes and standards.
CONNECTION :
Process : 1/2"NPT(F)
Instrument : 1/2"NPT(F)
Drain/vent : 1/4"NPT(F)
TEST PRESSURE :
@ 25°c' Room temperature

Hydrostatic : Body : 620kg/cm2g
Seat : 413kg/cm2
Pneumatic : Seat : 40kg/cm2
GLAND PACKING :
PTFE : Standard
GRAPHOIL : Temperature above 180°c
MATERIAL :
A105, A182/A479 Gr F304 SS,A182/A479 Gr F316 SS Monel, Hastalloy.
FINISH :
CS :Zinc plated and Dichromated
SS :Natural
Cross Sectional View :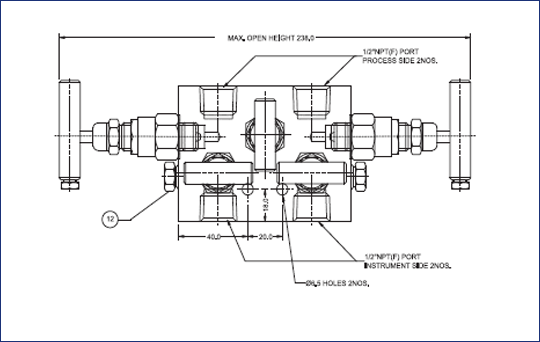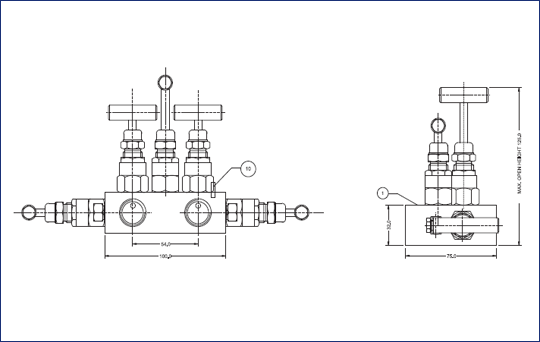 Other Specifications :