5 Valve Manifold Direct Mounted - H Manufacturers and Suppliers
5 Valve Manifold Direct Mounting 'H' Type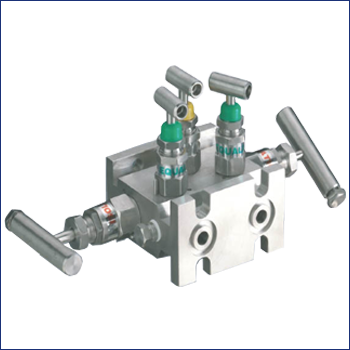 PART NO :5VM-DM-H

DESCRIPTION :Designed for direct mounting of differential pressure transmitters. For remote mounting two oval / kidney flanges are used for connecting process pipe to manifold Block These manifold block incorporate five Valves, two main valves for process Isolation, two Valves For vent, one valves for equalizing.
CONNECTION :
Process : Flanged
Instrument : Flanged
Drain/vent : 1/4"NPT(F)
TEST PRESSURE :
@ 25°c' Room temperature

Hydrostatic : Body : 620kg/cm2g
Seat : 413kg/cm2
Pneumatic : Seat : 40kg/cm2
GLAND PACKING :
PTFE : Standard
GRAPHOIL : Temperature above 180°c
MATERIAL :
A105, A182 Gr 304 SS, A182 Gr F 316 SS Monel, Hastalloy.
FINISH :
CS :Zinc plated and Dichromated
SS :Natural
Cross Sectional View :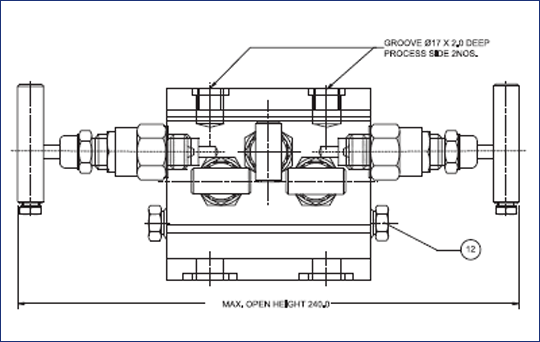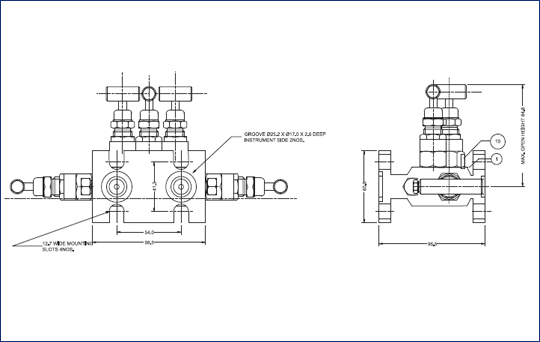 Other Specifications :